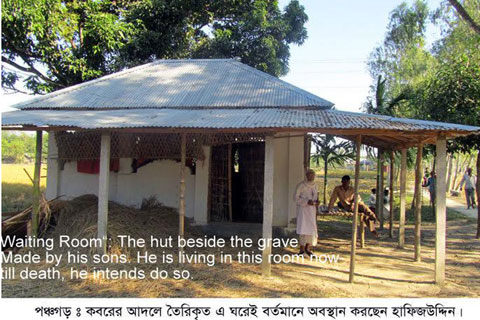 This is Hafizuddin, an elderly man over 80 of Panchagar, a district in north-Western Bangladesh. He is as simple as we can think of a person. But, you might be thinking after reading his story that the builder of Tajmahal, the Great Mughal Emperor Shahjahan would even had to bent down in front of him & put down his crown beneath his foot! Feeling it— too much?
Then, please go through the story here:
The man is spending last 37 years beside the graveyard of his beloved wife— leaving behind all the happenings of life. He neither is a powerful king nor was his expired wife a princess. And even there is no mausoleum on her graveyard like Tajmahal! But passionate Hafizuddin is static on the graveyard ignoring the darkness, rain, storm, winter-summer & even forgetting the fear of wild animals.
Hafiz, a resident of Bakpur village of Boda Sub-district of Panchagarh district is now 83 years old. In 1949 at the age of 17 Hafiz married Shukkuri Bibi (just 6 years then) of the same village. But after the marriage, Shukkuri had to stay with Hafiz's mother Surjo Banu for about 8 years. In 1956 they started their family life.
From then, a long spell of passionate 19 years flown away with deepest affection & heavenly love. And finally the tragic moment came, the moment of departure of Shukkuri Bibi. With tearful eyes, Hafiz verbalizes: The previous night my sweetheart asked for some sweets. I brought some sweetmeats for her.
The night, we shared those sweets with endless love-talking. Suddenly she started saying, "I'll be no more from soon, but please don't cry for me!" and she expired on the next morning keeping her head on my knee. Thus, Shukkuri's "The Emperor of love, Shahjahan" Hafiz became like a solitary islander without her.
After her burial, Hafiz cried loudly: Yesterday she was with me, talked with me, why she is no more? Where her soul has gone?
None of the villagers could answer this toughest question!
Villagers said, Hafiz believed at that time that Shukkuri can't die. So just after her burial he rushed to the local graveyard & started calling his honey by name with a watery tone. But there was no answer from Shukuri's world where she belongs now.
However, the Raja of love Hafiz didn't lose heart. Keeping the shriek slept in the deepest portion of heart; he left home & traveled various part of Bangladesh as Sylhet, Comilla, Chittagong & Chittagong hilly districts of Rangamati & Bandarban.
He stayed in hills & jungles for the quest to reach the soul of Shukkuri. His fooding & sleeping became irregular. Finally he encountered a priest (Peer: a persion with religious & deep spiritual knowledge) in Sonakanda area of the district of Comilla. In the Dargah (shrine) of that Peer named Abdur Rahman, he started hard persistence in pursuit for a spiritual dimension.
He slept inside a grave for 41 days near that Dargah. In 1978 he returned his own village Bakpur & started living beside Shukkuri's grave. From than till 2005 (27 yrs long) he stayed there in a thatched hut. In 2006, with the tremendous pressure from relatives & locals, he step aside from there but didn't return home.
He started living out home near the graveyard in a hut made resembling the grave. He has given demand to all to bury him there after his death. While talking about Shukkuri, saline drops falling down from his gloomy eyes! Rubbing the tear drops with both hand he said, we never were apart from each other during our family life. We never ever made upset each other. While going out for work purpose, always I felt her deeply & remained tense.
How do you live here alone in this grave-like place? "Shkkuri is my love, my heart! She departed leaving me alone, but I can't stay without her. That's why I am living here alone hoping to get touch of her soul." However, after the death of Shukkuri, he was compelled to marry another woman, but couldn't forget his soul-mate Shukkuri.
The children of his second family & the wife, accepted all his madly feelings for Shukkuri. Appeal to All Hafizuddin's final appeal to all: Please, pray for me so that I can get together with my beloved Shikkuri hereafter life!
Could emperor Shahjahan do that much for his beloved Mumtaj? In this calculative world, where always (most of the times) Machiavellism is the winner, mistrust, lust & extra marital relations are blotting up all the essence of heavenly love of Adam & Eve—the madly eternal love of Hafizuddin for wife Shukkri is a trend setter.
It seems, he is the new "Shahjahan" for all the lovers of the world without a Tajmahal!
newsone24.com/ak